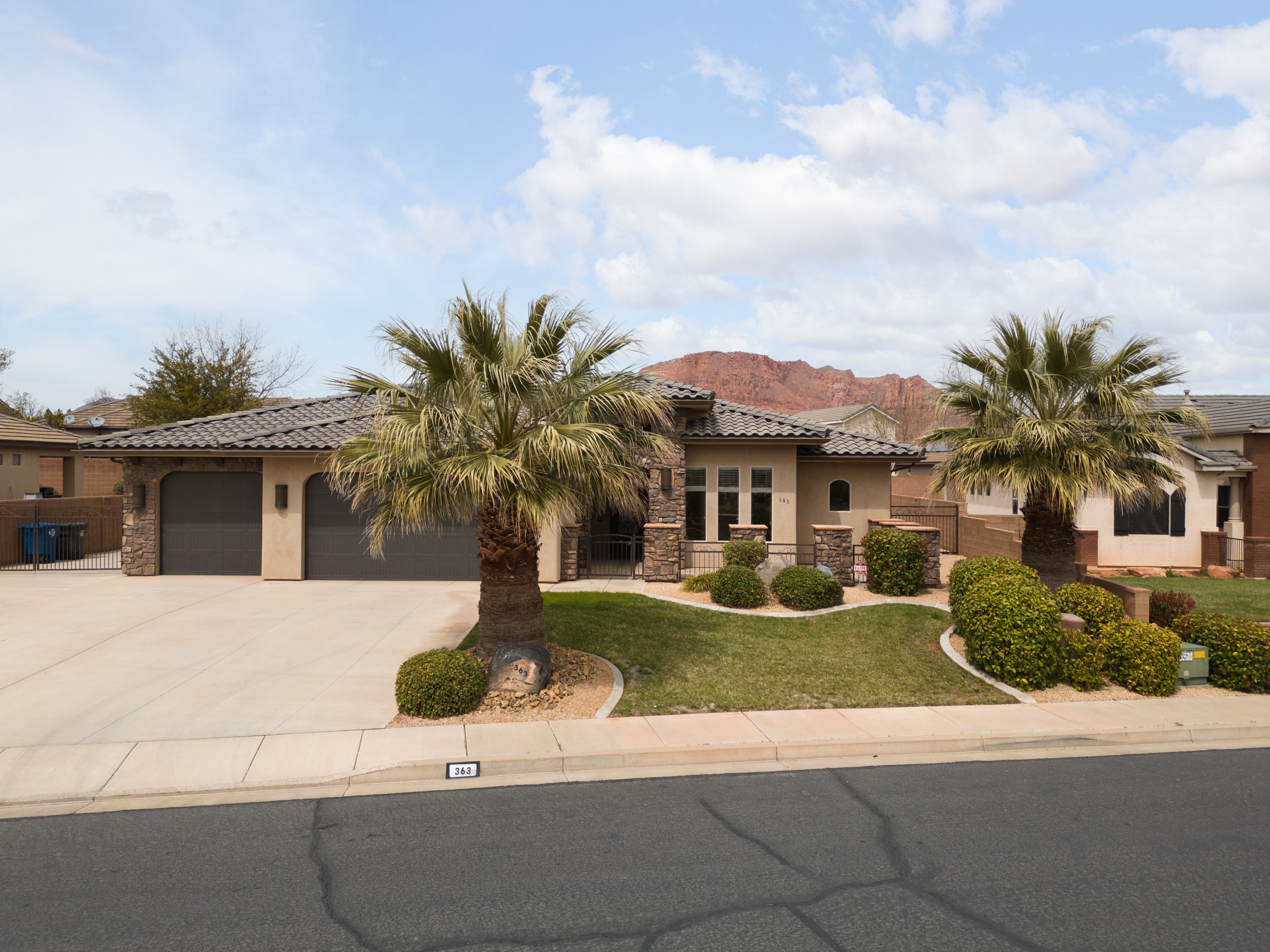 SELLER's Sister P Featherstone AUGUST 2023
Susan was so exceptional & instrumental in the timely & best price for the sell of my sister's home in Ivins. She gave perfect advice on how to prepare the home & she even added a few of her personal touches to give it incredible appeal & highlighted its unique qualities. She was so willing to work with me as I was more available than my sister. We worked awesome as a team both directly & long distance. Susan truly puts in added effort & focuses on what is best for her client!
SELLER L. Disalvo JUNE 2023
I've worked with Susan to both buy and sell a house. Both processes went quickly and very smoothly. What I appreciated about working with Susan was that she was upfront with me and was able to gently guide me to make decisions that would ensure good outcomes. By bringing to my attention a house that was listed just a smidge over my budget and therefore wasn't appearing on my searches, she found me my dream house! And by encouraging me to do one last necessary renovation, my house sold quickly. Her expertise in small matters such as those made a huge impact in my home buying and selling experiences!
BUYER H & A Echeverria May 2023
Recently, my wife and I had the pleasure of working with Susan Jarvis for our home purchase, and we couldn't be happier with the experience. From the moment we connected, Susan displayed a level of professionalism and expertise that instantly put us at ease.
Throughout the process, communication was great. Susan was always prompt in responding to our inquiries and kept us informed of each step. She listened attentively to our needs and preferences, and her ability to tailor the search accordingly was truly admirable.
One thing that stood out about Susan was her dedication to finding the perfect home for our family. She went above and beyond, tirelessly researching listings, scheduling viewings, and negotiating on our behalf. Susan ensured the entire process was smooth and as stress-free as possible.

Henry & Amy Echeverria

RELOCATION BUYER G. Allen April 2023
Managing a long distance move is stressful, but Susan made it so much better. She really worked to understand what I wanted, and I ended up with the perfect home for me!
LENDER Ben Shoff April 2023
Susan was great to work with our clients were looking for their first home on a limited budget. Susan did an outstanding job keeping them in their budget and also finding them a GREAT home for their family. Susan was always available and made the process easy. She is definitely someone I recommend to use as you can tell she truly cares about her clients and it shows in the quality of work she does on their behalf.
RELOCATION BUYER M. Castaneda March 2023
It has been a blessing to meet Susan Jarvis! I was recommended to her by a relative and I am beyond grateful that she help my husband and I in the purchase of buying our first home. We are moving from Ogden, UT to St. George and she made the process very smoothly. Susan is a wonderful friendly woman! Very knowledgeable! And super patient!! We had a great team working with us. I look forwars to keeping a good friendship! I highly recommend Susan's services!
SELLER A VanOrden March 2023
If it was possible to give someone a 10 star review that is what Susan Jarvis should receive. Susan, has went above and beyond in her efforts to sell our home. She lined up contractors, she basically was there to oversee the work needed. (We had moved up North so we could not supervise the work ourselves). She asked me right up front what was important to me. I told her communication. She made sure that I was always aware of what was happening in the process of the sell of the house. I am not one for taking my time to write testimonials about people, but Susan is worth the time. She will always put your best interests first, and she will sell your house. Angelete Van Orden
REFERRAL AGENT Paden Anderson March 2023
I sent Susan a friend to help sell their home in St George and they were thrilled with the level of service they received. They said she sold their house quickly and for a great price! I appreciate her hard work and dedication. Paden Anderson
SELLER FAMILY MEMBER K Richards March 2023
Can't say enough about how great Susan was to work with. She went above and beyond helping my parents sell their home. The previous realtor had it listed for 6 months with no showings. Susan had it sold before the sign went into the ground. I would highly recommend her.
BUYER Lyn H. March 2023
When Jeff and I decided the time was right to consider buying a second home in St George, Utah, a networking acquaintance highly recommended Susan Jarvis, of ERA Brokers Consolidated, in St George. So I emailed Susan, letting her know of our upcoming month-long stay in St. George, and our desire to potentially purchase a second home there. She called me right away, and we set a date to meet when we arrived in St. George a few weeks later. Let me share that this was a great decision! Susan knows her stuff, she showed up with grace and expertise, and did what it took to ascertain our needs, explore every option available, and work with us to find the perfect home. Even more importantly, Susan is well connected, so every single need we had throughout the purchase process, as well as after our closing, she "had a guy." I believe life is lived in the details and Susan made sure every detail was handled with care. Even after closing, Susan went above and beyond to make sure our home was ready for us to settle in and make it ours in the coming weeks. She even introduced us to her own personal cleaning lady, so she could help get our home move-in ready. We highly recommend Susan to anyone interested in purchasing a home in St George and we will continue to use her as our needs arise in the future. Thank you, Susan, for a job well done. We are grateful!
RELOCATION BUYER H. Tate February 2023
Susan Jarvis went above and beyond to help me find the perfect house and to get to know the St. George community. I had a long distance move and ended up having to buy without actually seeing the house myself. Susan did video tours of multiple houses and even did a video walkthrough of my house after my offer was accepted. She also helped me get settled in the community, offering contacts for various services and even letting me know about social events. I had a tight timeline for my move and Susan worked with me at every step of the process to make sure I could get into my house on time even when unexpected events complicated the process. Susan is simply fantastic and as settle into my new home, I'm grateful! 💜

Thank you for everything, Susan!

REFERRAL AGENT L. Carmichael, CA February 2023
Please know that Susan Jarvis was SUPERB! She was every bit of what I hoped for and researched for when searching for someone to take care of my clients! We set down a path, strategized a plan and "danced well" together. She's a KEEPER! AND, she will always remain on my SPEED DIAL!
SELLER G. Martin January 2023
Susan, Thanks for doing a great job of selling my house in St George. I appreciate your diligence and care of my house during the selling process. Also your weekly phone calls with updates and market info were helpful and your professional guidance through the legal maze was on the mark!
SELLER/Daughter, M Schroeder, of Seller January 2023
What a pleasure it was working with Susan as she assisted my parents in selling their home. Her professionalism, frequent communications, her diligent attention, and the courtesy she showed my father was all so impressive and appreciated! Can't thank her enough!!!!
BUYER Brent Reed December 2022
Susan was just wonderful working with to buy a home here in St. George. She was so good at making sure everything was fine and she has great follow-up skills. She was also very pleasant to work with and very flexible in meeting with me and deciding which home to purchase. Her knowledge of the real estate market around St. George reinforced my choice to use her to help me buy a home here. She has also given me valuable advice on many aspects of buying a home and what to do after moving in. I have enjoyed dealing with her having someone I can trust to buy a good home for my family to live in for many years now. I would fully recommend Susan as your real estate agent to help with your home buying needs. Have a great day!
SELLER A. Perkins November 2022
Susan Jarvis is beyond helpful, efficient and knowledgeable. Always willing to step in when I was confused or ignorant, her experience and advice were invaluable!

Thanks Susan! You really were fantastic to work with!

LISTING REFERRAL Krammer November 2022
Susan Jarvis is an amazing realtor to work with. She is honest and caring. I bought a house with her help a few years ago. She got me and my family into a home that we thought for sure we wouldn't qualify for, and we love it! Because of my great experience with her, I referred her to my sister-in-law who was selling her house this year. Susan kept in contact with both of us the whole way through, and was able to sell the house for more than it was purchased for. I definitely recommend using her when you are ready to buy or sell a house! I will use her again, and refer her to everyone I know!
RELOCATOR A. Binnebose July 2022
We are so happy that we stumbled upon Susan to help us purchase our home in St. George. We relocated here from Northern California and the entire process of purchasing a home with Susan was seamless even though it was all done from another state. On the same day we called her to ask to work with her she virtually showed us the house we wanted to put an offer on and worked on getting our offer submitted that same very day! She went above and beyond for us, and we felt during the entire process like we were here only Client. The communication was on point whether it be with email, texts or phone calls. I highly recommend using Susan for your realty needs. She is a Rockstar!
SELLER M Grimm July 2022
Susan Jarvis did a great job selling our property, quickly answered requests from potential buyers, and kept us in the loop throughout the entire process with excellent communication! We will definitely use Susan as our realtor the next time we are in the market to buy or sell in St. George!

BUYER Steve & Lori Wittman July 2022
Susan was fantastic to work with and went the extra mile to help us buy our home in Cedar City. Since we hadn't bought another home in 20 years, the process was very overwhelming. Susan was very calming, reassuring and kept us well informed of the process from start to finish. It was a pleasure working with Susan and we would highly recommend her for your real estate needs.
BUYER, Vacation Rental B Dowding June 2022
Susan was wonderful to work with and very patient. We were very particular and looking for a specific property in a specific location in St. George. It took about 6-7 months before we found what we were looking for. Once the property became available, Susan went right to work and helped us create an offer that would get the attention of the seller. Susan was super responsive and communicated with us during the whole process. Since we live in northern Utah, we were unable to see the property in-person so she FaceTime'd us to give us our own personal, virtual tour which gave us the peace of mind we needed. Susan's experience and knowledge of the area as well as her connections with established, reputable home inspectors made the due diligence process a breeze. If we ever have any future real estate needs in the St. George area, we will certainly use Susan again. We can see why she was recommended by our local realtor friend from our area!
RELOCATOR Jay Lindsay May 2022
"My parents recently relocated to St. George, UT, and had specific requirements related to location due to health issues and needed resources. Susan Jarvis worked closely with us, exemplifying compassion and empathy while identifying and showing ideal properties that addressed specified localized needs and fell within the optimal price range. Her team, and the teams of related entities and agencies, ensured that the purchasing process was as stress-free as possible by explaining Utah real estate law complexities and buyer/seller agent interactions in a clear, concise, and respectful manner.

"The professionalism and genuineness exhibited by Susan as our representative on this and other real estate matters merit the highest recommendation for those looking to buy or sell a property."

SELLER B & K Slife May 2022
"Susan was an absolute joy to work with. She's very much aware of the sometimes trying experiences of being a seller. Her warm empathy and support was so welcomed. We were also glad we followed her thoughtful and gentle suggestions about preparing the house for sale and thinking through the marketing options. She's a pro and her wisdom was ultimately born out in the resulting sale!"
BUYER J & N Lindsay May 2022
My experience with Susan Jarvis was really good. She was quick. She was efficient. She has a wonderful team that was working with her...lender, home inspector, etc. I highly recommend her for any of your real estate needs. I really do think she is Really Good!
RELOCATOR Megan S April 2022
It was a pleasure working with Susan! She helped us find a new home very quickly, and was very responsive and professional. I appreciated the additional contacts for local services so help us in our new home.
RELOCATOR Joe Letteriello March 2022
We are extremely happy that we found Susan Jarvis and confident that you will feel the same way. She stays in the game from the beginning, always ensuring that your needs are met. Communications, attentiveness and trustworthiness are some of her exemplary traits. It is so nice to have an agent who cares for your happiness. If you are like us, you will have also found a new friend.
SELLER Mara Saenz February 2022
I have really enjoyed working with Susan. She listens, and gives input, but still trusts you to make the choices that fits your needs. she is very responsive, and always available for any questions or concerns. Susan made sure I sold my home to the best offer, all around, not just the first offer. Thanks again Susan! I look forward to working with you in the future. :) -Mara &Roberto Garza
SELLER L Jensen February 2022
Susan was so great to work with. She helped us with every step of selling our home. Even through the remodel, she kept us organized, moving forward and often times she went the extra mile. The house sold quickly and above our original asking price all because of her hard work, attention to detail and professionalism. I could not be happier!
BUYER Kathryn Davis January 2022
Susan is the best agent that we have ever worked with. We relocated to the St. George area from the east coast, and she helped us find a home in four days. She always made us feel like we were her only client. Throughout the process, she worked with us both in person and from a distance, as we began our cross country move. Her knowledgeable team made the entire process seamless for us, from beginning to end. Susan is delightful to work with, patient and understanding of her client's needs. We enthusiastically recommend her.
BUYER Belinda Roberts December 2021
We have bought and sold several properties over the years yet have never had an agent as dedicated as Susan Jarvis. She is a true professional!!! Susan helped us find property and a builder. The 13 month process did not deter or lessen her service and commitment. Susan stood by our side throughout the entire process. Not only did the professionalism Susan exhibited impress us as clients, every other individual involved spoke highly of her throughout the process. Her kindness, work ethic, and commitment to excellence is only surpassed by her integrity. Sincerely, there isn't a single negative to mention. We highly recommend Susan Jarvis without reservation
SELLER Allie Coutts September 2021
WOW! WOW! WOW! I've known Susan for over 3 years, and I knew when it came time to buy or sell she really understood what our goals were and what was most important to us when selling our home. She convinced us that we could list our house for $8,000 more than we anticipated. She was RIGHT! While fielding offers, Susan was always quick to get us the details and negotiate our terms with the buyer's agent. I can honestly say that Susan was our rock and our encourager throughout this process! We learned a lot, and she helped us to stay calm during the most stressful times. I'm so grateful for her! If you are looking for an agent willing to go above and beyond, Susan Jarvis is the definition of a stellar realtor!
RELOCATOR Matt Nickodemus August 2021
Susan is the best! She was thorough and professional, and great to work with. She kept us apprised about every step in the process and always answered texts right away. She is super fun to look at houses with, and her knowledge of the St. George market is impressive. She has a great team that she works with. Working with her was the best home buying experience I have had. I would definitely recommend her to anyone looking to purchase in Washington County.
RELOCATOR Steve Tierney August 2021
usan is an exceptional real estate professional. She is extremely organized, knowledgeable and very thorough. Her handling of complex paperwork was truly remarkable. Her extensive knowledge and experience in real estate, her attention to detail and her caring nature gave us 100% confidence and comfort in our home purchase endeavor. She is genuinely interested in YOUR needs and will do whatever is possible to accommodate and deliver on your behalf. Susan was truly our guiding light in buying our home. We were grateful to Susan for keeping us in constant update mode as she was our eyes and ears. I would highly recommend Susan for ANY real estate needs you may have. We are thrilled with our new home!
RETIREE Don Gaarder August 2021
Susan Jarvis embodies the finest standards of customer courtesy, thoughtful suggestions and reassurance that any buyer could possibly desire. She does not come a cross as a used car salesperson who is gaming her clients. Quite the contrary, she has been extremely supportive, patient and helpful from beginning to end in looking for a house, finding a house, negotiating with the seller and closing the deal. What a wonderfully positive experience this has been. I can without reservation recommend Susan to any buyer. They will not be disappointed!!
SELLER Jim Haney July 2021
Susan was was extremely helpful right from the time I met her until the house was sold. She helped me set up the house for showing and provided helpful information about pricing the home and guided me through the needed process after the house was sold. I could not have found a better agent to help me with the sale of my home.
REFERRAL AGENT Kate Dawson July 2021
As an ERA agent in Maine, I needed to help a buyer client find the perfect agent to help sell his Utah home before relocating. After a lovely conversation with Susan, I knew my client would be in the best professional hands to make a smooth transition. Susan was able to sell his home for the best price and terms. I love collaborating with fellow ERA agents and will certainly reach out to Susan again for any Utah real estate needs. There are many agents to choose from but as a fellow full time agent, I could tell Susan had the local expertise and experience to get the best results and she did! Gotta love TEAM ERA! Thank you Susan!
SELLER Joy Mosko June 2021
Susan does not become just your real estate agent; she becomes your friend. We had the pleasure of working with her twice on the buying and selling of the same home. She kept us informed and up to date during both of those processes and answered our questions promptly while reassuring us along the way. She is on your side, wants you to have the best experience, and she will ensure that happens.
HOME INSPECTOR Brent Wright July 2021
I have had the pleasure of working with Susan on several different occasions. I have watched Susan interact with her clients and have seen the close relationships that she strives to have with each one. She is extremely professional and dedicated in everything that she does. It is very apparent to me that she will always go the extra mile to ensure that each of her clients is satisfied with the final decision that is made.
FIRST TIME BUYER Chalice Randazzo
Susan helped me successfully purchase a house in one of the toughest buying markets that St George has seen. As a first-time home buyer, I had a million questions that she patiently answered. And when I decided to increase the intensity of my search, she was always there when I needed her: in 6 weeks, we saw over 30 properties and put in more than 15 offers! She had the patience, knowledge, and tenacity to make my search successful, and she was a delight the whole time.